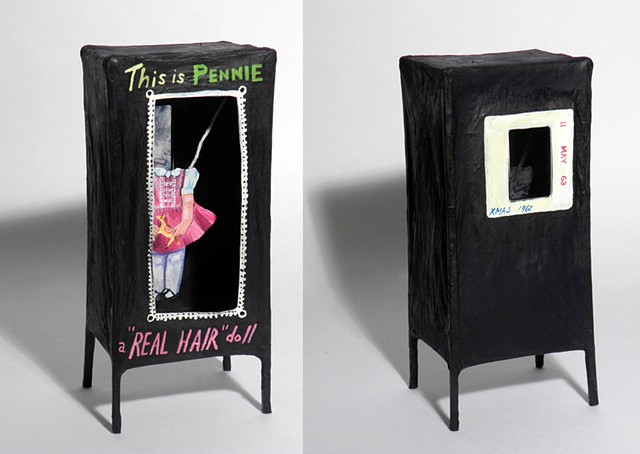 Reliquary for a Pennie Doll
Acrylic paint on papier-mâché and basswood, with 35mm slide
7" x 3.5" x 3"
2015
This piece is the first in a series of responses to the popular 'pay-it-forward' game on social media. The game calls for me to send a handmade item to the first five people who 'like' my status with the game instructions. In order to be proactive about creating meaningful work for this, I invited my participants to send me old slides for inspiration and use in a personalized artwork. My first contributor swiftly responded.
I looked carefully at the three slides she sent and felt this one to be the most interesting: the quiet after Christmas presents are revealed. I zoomed in and noticed that one of the unwrapped presents was a 'Pennie Doll' paper doll set. I was able to find reference for the box details on eBay. I constructed a basic box reliquary to resemble the original container. Without the doll itself, a paper ensemble is suspended in the center and parallels the fragments of childhood that remain in our memories. A replica of the writing that was on the original slide: "XMAS 1962, 11 MAY 63," is located on the reverse.
Special thanks to Jennifer Lovaglio.