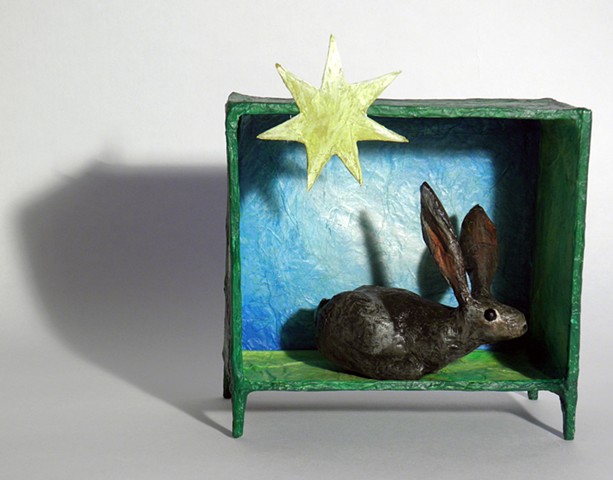 Reliquary for a Rabbit at Mary's City of David
Acrylic paint on papier-mâché and bass wood
6" x 7" x 4"
2014
I had the privilege of touring what remains of Mary's City of David in Benton Harbor, Michigan. Fascinated by this once thriving community, I listened deeply to the stories of one of the few remaining members. Peppered throughout detailed explanations of historical events were narratives of personal memory. One story evoked such a vivid image that I chose to commemorate it in Reliquary for a Rabbit at Mary's City of David. After a tour of the carpentry shop, the historian shared a childhood memory:
"In the winter, my grandfather who worked in this shop, stored apples in the basement. Each afternoon, at exactly 3pm, we'd take a break from chores and eat apples. We'd feed the apple scraps to a rabbit that would come by. Eventually, that rabbit knew to be there at 3pm sharp."
The place and space of a carpentry shop immediately connected me to my father who was a carpenter. This memory combined with the heartfelt reminiscing of the guide to create a moment filled with nostalgia and great emotion.
Special thanks to RJT.